Celebrate the past recipients of UCOWF's Dorothy Forney Award and Jack Heacock Distinguished Service Award!
DOROTHY FORNEY MEMORIAL AWARD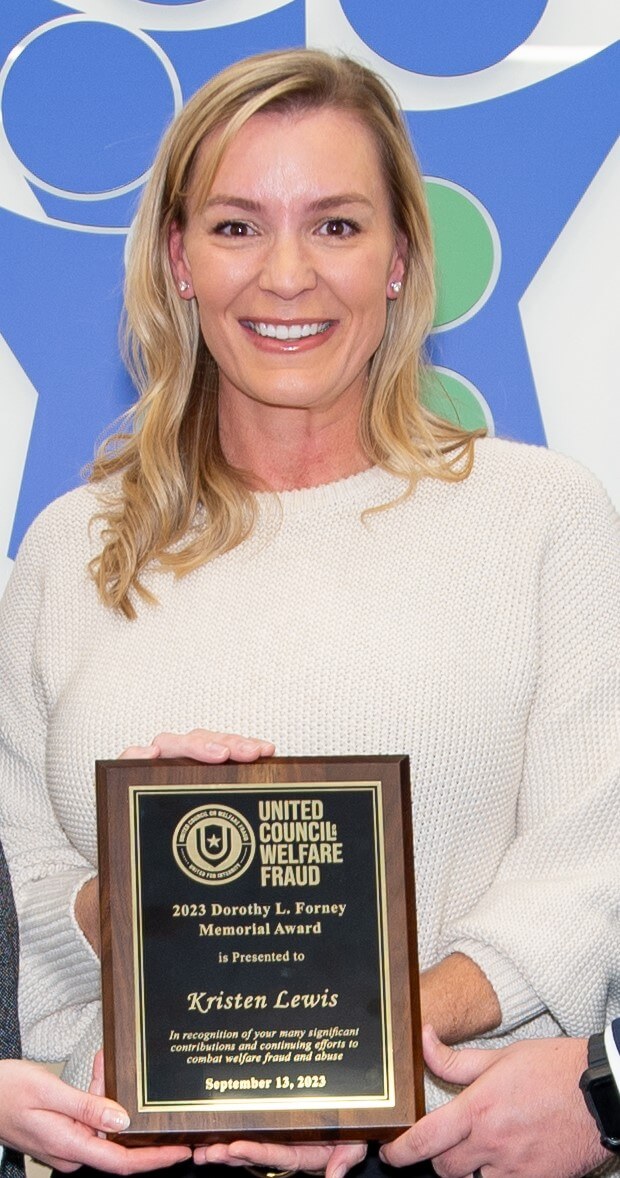 HISTORY
Each year UCOWF presents the Dorothy Forney Memorial Award at the annual training conference. The Dorothy Forney Memorial Award is the highest honor conferred on an individual or organization by UCOWF.
Dorothy Forney was one of the founders of UCOWF and served as Executive Director until her death in 1983. She was a nationally recognized authority on entitlement programs and served on President Reagan's transitional task force in the former U.S. Department of Health, Education and Welfare. Mrs. Forney was totally dedicated to UCOWF and its mission.
In her memory, the Dorothy Forney Memorial Award is given annually in recognition of outstanding contributions to the field of fraud control. It is given to individuals or organizations whose actions have had a significant impact on the prevention, detection, prosecution or elimination of fraud and abuse in benefit programs.
Nominations for an individual or organization for the Dorothy Forney Memorial Award are reviewed annually by the UCOWF Awards Committee and the UCOWF Board of Directors approves the nominee at its Mid-Year Board Meeting.  All nominations are confidential but the nominee selected by the UCOWF Awards Committee is notified of his or her selection.
JACK HEACOCK DISTINGUISHED SERVICE AWARD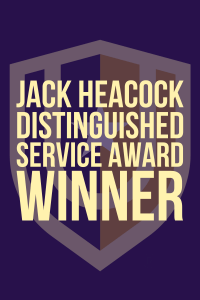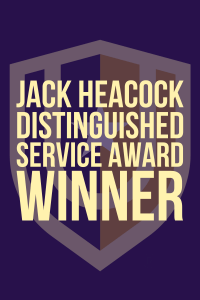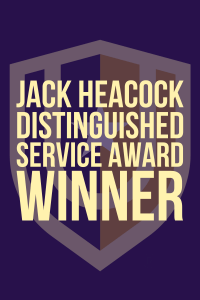 History
In the Fall of 2019, UCOWF leaders began to notice that the Dorothy Forney Award was being used to recognize contributions to UCOWF rather than its intended purpose of recognizing a member's outstanding investigative work. In short, the Dorothy Forney Award was becoming the "Past President's Award" and in the course of ensuing discussions, it became apparent that UCOWF needed to establish an award to recognize individuals who make significant contributions to the UCOWF organization, leaving the honored Dorothy Forney Award for those who are representative of its intended purpose.
In the Spring of 2021, a motion was formally introduced to the UCOWF Board of Directors to establish a new award that recognized members who contributed their time, effort, skills, and talents to UCOWF in a manner above and beyond what is expected of UCOWF members and directors. The motion was unanimously approved, allowing the Executive Committee to select up to three individuals per year worthy of recognition for their exemplary service to UCOWF.
Subsequently, in the summer of 2023, the Board of Directors unanimously voted to name the newly created Distinguished Service Award after its first recipient, Jack Heacock.
Jack Heacock worked for the State of Florida and has been an active member of UCOWF for twenty-six years. During that time, he had a front row seat to witness UCOWF's successes and failures and made countless contributions to UCOWF and its legacy. Jack has been instrumental in identifying UCOWF's weaknesses and shortcomings while offering solid, insightful, and workable solutions to overcome those shortcomings.
The Board of Directors felt it was appropriate to name the award after him so that every year after its establishment, members honored with the Jack Heacock Distinguished Service Award will be recognized with an award that will forever define what distinguished service to the United Council on Welfare Fraud means.